The Guardian
20 April 2014
Minister for social services, Kevin Andrews, may renege on promise not to make retrospective changes to DSP.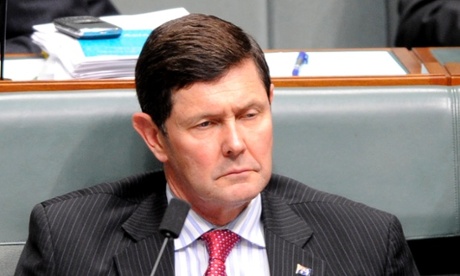 People younger than 35 who are on the disability support pension (DSP) may be reassessed by an independent doctor, under a reform being considered by the Coalition government, and contrary to previous promises.
The minister for social services, Kevin Andrews, is considering an interim report on the welfare system, written by a welfare consultant, Patrick McClure, and says the government's focus is to keep more people in work.

In December, the minister indicated that people under 40 might have their DSP reviewed. He now has made his most emphatic comments that the government is actively considering this.
"What we do know is that if people have been on the disability support pension for more than a few years, then they are likely to have deteriorated and it therefore becomes not a sensible thing to go back and try to test everybody," he said.
"But what we want to ensure [is] if people who may be young for example, who may have just recently gone on to the pension, to check whether or not they need to stay on that pension, or whether or not, with some support, they could actually be in some work."
Andrews has repeatedly promised that a review of the welfare network would not include retrospective changes for people on the DSP. Asked if he was considered reassesing such people, he replied: "People who need a safety net will have a safety net."
The review into the welfare system was commissioned last year. It excluded the aged pension, the most costly benefit to the government, and focused on the DSP and Newstart.
Andrews is considering a two-tier system for the DSP, making a distinction between people who need to be on it permanently and those who may need it only temporarily.
It is understood Andrews has received the interim report and is considering making it public this week.
The minister said it would be a "waste of money" to reassess every person receiving a DSP because most of them would be eligible, but he said work was always a better outcome for those on the disability support pension, particularly those under 35.
"We believe in a genuine safety net for vulnerable Australians. If people are disabled and they need a disability pension, they will continue to get it. If people are out of work and need an unemployment benefit, they will continue to get it," he said.
The president of People with Disability Australia, Craig Wallace, said he was concerned by the potential change to the DSP and that he was particularly disappointed it was being discussed by the minister on Easter weekend, when most people were on holiday. He said it was irresponsible, on a holiday weekend, to cause anxiety for people on the DSP that they might lose their payment.
Wallace said that, while he did not have access to the review, doing reassessments of young people could be considered a retrospective change.
"That would concern me and would be breach of that promise [not to make retrospective changes] but, again, we would like to see more detail," he said.
He said he was not unequivocally opposed to people on the DSP being assessed. However, people with disabilities needed a broader jobs' package, too, he said.
"The only people that are potentially going to get more money out of this are doctors. What we need is a jobs' plan for people with disability, to get people into sustainable employment, starting off with the public sector. That's now down to about 2.9% [of people with a disability] and has been continuing to fall since 1996. But we also need more work done to ensure people with disability have support," he said.
"We need to ensure employment services are stepping up and that there are incentives for people with disabilities, like allowing people to keep DSP for a while after they move into employment."
Wallace criticised the McClure review, saying there had been no public consultation or public submission process. He said McClure had held closed-door "soft consultations" a couple of months ago, with handpicked disability and welfare advocates, rather than throwing open the process.
"We haven't seen the interim report for that review. It's about time the government told us what the actual process is for that review," he said.
Reassessments of some people could mean moving people from the DSP on to Newstart, which would mean a drop of $160 in their weekly income, Wallace said. "We need more carrot and less stick," he said.