The movement to raise Newstart payments is taking off. Here are four actions you can take.
Ask Bill Shorten to commit to increasing Newstart to the poverty line.
Anyone with a sense of justice and humanity realises It's Time to raise Newstart payments. Except Bill Shorten. He wants a "root and branch review of Newstart." We don't need a review to be sure living 30% below the poverty line is stressful, isolating, and a daily grind.
Let Shorten know what it's like to survive on a Newstart payment of $40 per day. Assure him he doesn't need a review, he simply needs to commit to raising the rate.
More than 3,000 people have already signed. We need thousands more. Add your signature too.
2. Sign up to our National Newstart Action Group.
Help us lobby the ALP, trade unions, and city councils over the coming months.
Based in South Australia, unemployed people, pensioners, single parents, and workers who all support a raise to Newstart, formed the Newstart Choir. They offer a rousing reworked rendition of the iconic "It's Time" jingle, used by the Labor Party and Gough Whitlam in the 1972 federal election. Brilliant work by our friends at Anti-Poverty Network SA, and everyone else involved!

It's time for changing, not deck-chair rearranging,
Time for poor folk, not rich folk
It's time for us folk, yes it's time
It's time for Newstart, to give a real start,
One hundred more a week start, yes it's time.
4. Contact the offices of Bill Shorten and Jenny Macklin
Ask them why the ALP has not yet committed to increasing Newstart to the poverty line (contact details below). Maybe Jenny would like to add this act of basic fairness to her legacy before she exits party politics. Jenny, time is ticking!

The Rate of Newstart is a National Disgrace.
Australia's unemployment benefit – known as the Newstart Allowance – is $355 per fortnight below the poverty line according to the Melbourne Institute, making Australia's unemployment benefit one of the lowest in the developed world.
This is a national disgrace.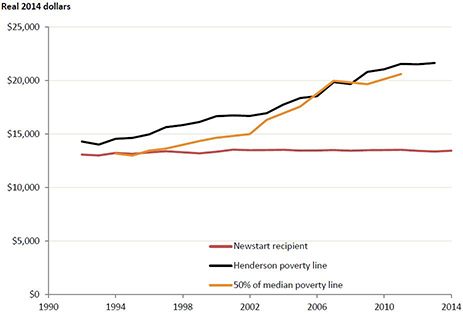 It has been more than two decades since the Newstart Allowance was increased in real terms. The wait has to end — It's Time!
Hundreds of thousands of unemployed Australians are suffering as a result of the low rate of Newstart.
An Australian Council of Social Services (ACOSS) report shows 40% of those on Newstart can't afford to pay bills on time and 36% spend more money than they receive every week. 55% on Newstart live below the poverty line.
Nearly half can't afford to go out once a fortnight, have friends over just once a month, can't afford hobbies and, can't afford to buy new clothes. If this were not challenge enough, 25% of those on Newstart have to manage a significant disability.
In some cases, as shown in a recent ABC investigation, the low rate of Newstart forces people into homelessness.
The government suggests this low rate of Newstart is necessary to push people into work. This is a lie.
According to the government's own numbers (from the Australian Bureau of Statistics and the Department of Jobs and Small Business), Australia has record high ratios of job seekers to job vacancies (around 16:1).
Exactly how are the unemployed meant to find work in this situation?
As a result of the complete lack of jobs, 7 out of 10 people receiving Newstart have been unemployed for more than a year, up from 6 out of 10 three years ago.
The Australian Unemployment Union demands that the Federal Government:
(1) Increase the Newstart Allowance and related payments to the Henderson poverty line (50% of median income).
(2) Change the current indexation arrangements of all working age payments (Newstart Allowance, Youth Allowance, and Parenting Payment) to be in line with average male wage growth.
Beginning with the election of the Fraser Government in 1975, successive federal governments have chosen to increase Newstart in line with the Consumer Price Index (CPI), rather than average wage growth. This has led to the current low rate of the Newstart Allowance at $259.40 per fortnight. As one wag put it, "If you want to destroy a social security benefit, index it to the CPI!"