While many Employment Service Providers claim that Work for the Dole is the only option for unemployed workers once they enter their 'Work for the Dole phase' after 12 months of being on Newstart (or 6 months if you entered into your WFTD phase before 1 October 2016), this is not true. The fact of the matter is that, according to the Mutual Obligation Requirement Guideline, unemployed workers have a number of options when it comes to satisfying their mutual obligation requirements. See exert below: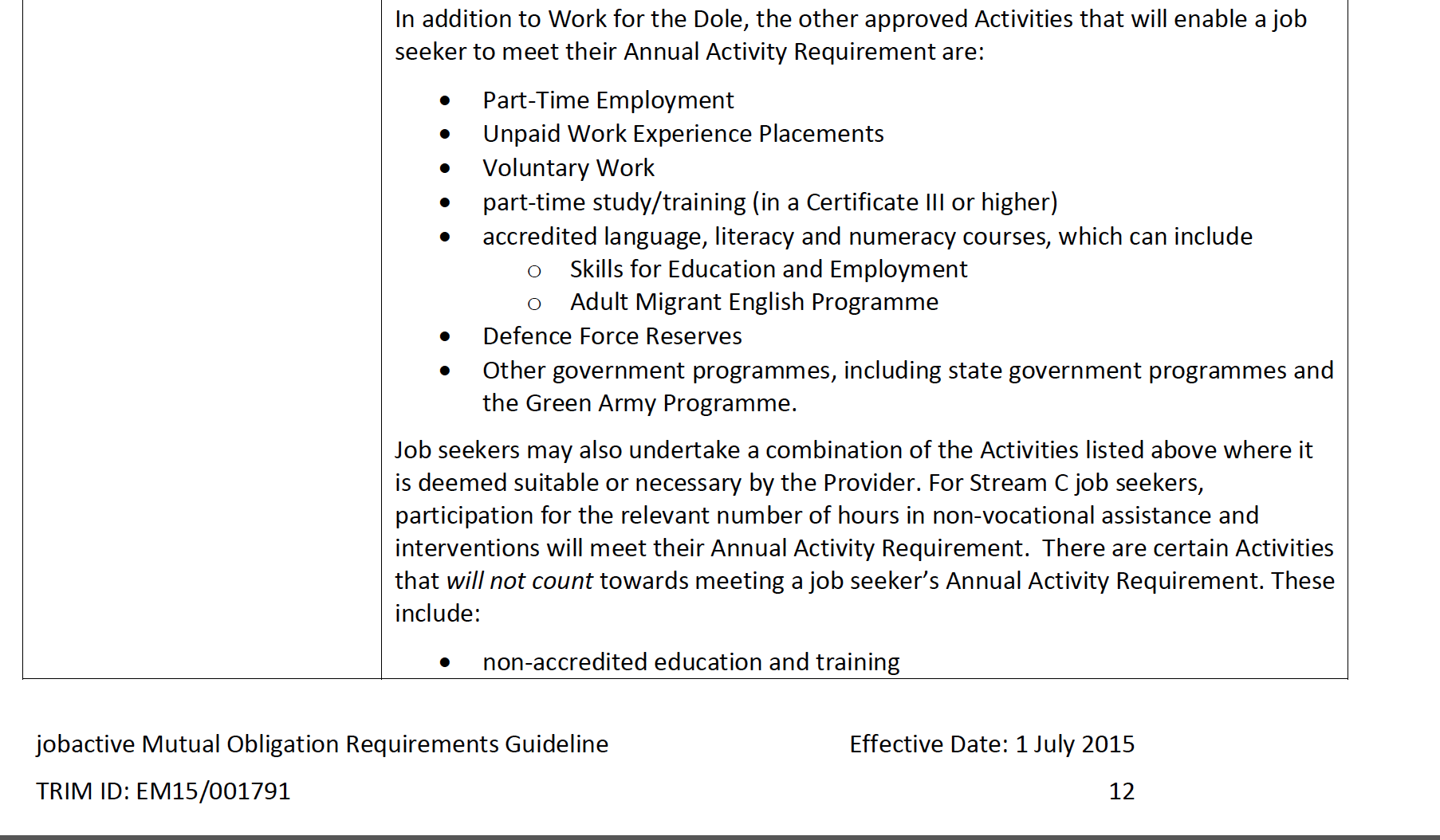 Single Parents, people with a Partial Work Capacity and people over 50 have an especially strong claim not to do Work for the dole as the mutual obligation tables say that these people have a choice of activities.
The choice of activities are as follows:
Voluntary Work
Under the job active guideline, unemployed workers can undertake voluntary work instead of Work for the Dole.  There are a few things to remember when you are deciding what voluntary work you would like to do.
Firstly, it must be a non-for profit organisation.
Secondly, it must be an approved Centrelink Voluntary organisation. This means the non-for profit organisation must fill out a 'Request for Organisational Approval' form, available here.
After that form is complete, both you and your chosen volunteer organisation must fill out a 'Verification of Voluntary Work' form, available here. Please note that due to insurance issues the Australian Unemployed Workers' Union is not able to become an approved voluntary organisation.
When you take these forms to Centrelink, make sure you ask them to give you copies of the processed forms so  you can show your job agency.
For more information about suitable voluntary work, click here.
Part-Time Study/Training
According to the Mutual Obligation Requirements Guideline, unemployed workers can undertake part-time study or training in a Certificate III or higher to meet their mutual obligations.
Accredited Language, Literacy and Numeracy Courses
Unemployed workers can also undertake accredited language, literacy and numeracy courses to meet their mutual obligation requirements.These courses can include:
(1) Skills for Education and Employment
(2) Adult Migrant English Programme
Defense Force and Other Government Programs

Defence Force Reserves is an Approved Activity according to the Mutual Obligation Requirement Guideline, as well as Government programs including state government programmes and the Green Army Programme.
And of course Paid Work
Any reduction in your Newstart payment due to paid work means that you are ineligible for Work for the Dole. As it says in the Mutual Obligation Requirements Guideline:
In a Job Plan, Providers must not include participation in Work for the Dole (or other approved programs of work) as a compulsory item:
• for job seekers receiving less than the full rate of Newstart Allowance, Youth Allowance (other) or Parenting Payment Single, where the rate is reduced due to the income test (Note: A reduced rate can result from the job seeker's own income and / or their partner's income.)
• for Special Benefit—Nominated Visa Holders if the person or the person's partner has income
• where the Activity is more than 50 hours per fortnight
• where the job seeker is aged under 18 or is 60 and over.
Click here to check when your Newstart payment will be reduced.