Our Unemployed Workers' Rights Guide is now available online!
To download and view the guide, please CLICK HERE.
Please send any questions, comments and suggestions to advocacy@unemployedworkersunion.com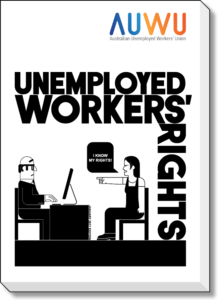 National Advocacy Hotline
If the unemployed workers guide does not address your question or concerns, please call us on (03) 8394 5266
Hours of operation: 10am-2pm, Monday-Friday.
Answering machine messages will be responded to within 10 business days.
Alternatively, you can email us for advise at advocacy@unemployedworkersunion.com
The hotline is maintained by a volunteer group of AUWU members.